Charity and Philanthropy
Committed to supporting our communities
We actively support charitable organizations in the communities where we live, work, and serve. At ExamOne and Quest, we believe in giving back and encourage our employees to pay it forward. In 2020, our company contributed more than $7.6 million to philanthropic giving and had more than 25,000 employee volunteers hours. To learn more about our corporate citizenship strategy you can review highlights of The Quest Diagnostics 2020 Corporate Responsibility Report here.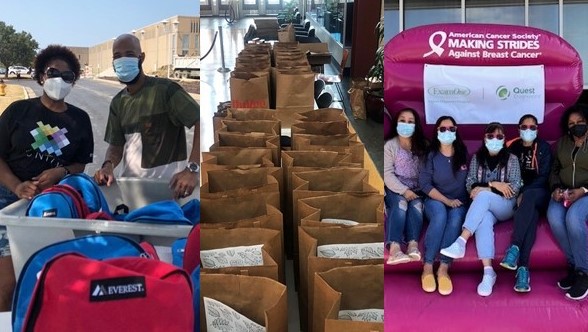 Our quest to give back
Making strides for the American Cancer Society
Breast cancer is the 2nd most common cancer in American women. To help continue to raise awareness for the need for screenings and care, Quest Diagnostics and ExamOne are committed to sponsoring events like the American Cancer Society Making Strides Against Breast Cancer Walk. In October of 2021, we were a sponsor of the walk for the 6th year, and our Kansas City team raised more than $6,000.
At ExamOne, many in our employee family have experienced the impact of breast cancer first-hand. Read about their personal journeys and how others have stepped up to help.
Donating 13,500 meals to Feeding America
At the virtual AHOU: Association of Home Office Underwriters conference in 2021, we showed our appreciation for our clients' partnerships by assisting our neighbors in need with a donation of 13,500 meals to Feeding America. The contribution included a $5 donation for each attendee that visited our virtual booth.
50-mile challenge for Life Insurance Awareness Month
During Life Insurance Awareness Month, ExamOne sponsored a 50-Mile Challenge to raise awareness and donated $1,000 for the Life Happens COVID-19 Relief Scholarship. Employees stepped up to the challenge and tracked their movements on the Charity Miles mobile app and finished more than 3,000 miles.
See other ways we have served our employees and community with back-to-school supplies, virtual food drive for Harvesters, Community Food Network, and sponsoring The Arthritis Foundation's Kansas City Jingle Bell Run here.
We encourage our offices across the country to support local deserving organizations within the areas and communities they serve. We are committed to demonstrating that ExamOne and Quest Diagnostics care for our communities.