ExamOne offers expanded opioid panel
July 6, 2017
As prescription drug misuse has risen to epidemic proportions in this country, the focus is centering around semi-synthetic opioids. Because the opiate screen included in the full drug panels detects only codeine, morphine and heroin, ExamOne will offer an expanded opioid panel.
Drug overdose deaths and opioid-involved deaths continue to increase in the United States. The majority of drug overdose deaths (more than six out of 10) involve an opioid1. Since 1999, the number of overdose deaths involving opioids (both prescription opioids and heroin) quadrupled2. Additionally, the 2017 Drug Testing Index™ report shows drug positivity in the US workforce is the highest it has been in a decade.
Since 2000, the death rate has increased by 137% for drug abuse overdoses and 200% for opioid drug overdoses. This increase in overdose deaths is apparent in both genders, as well as across multiple age groups.
For the last three decades, ExamOne has offered two main options (see below tables) for full urine drug screens to help insurers identify risk in the insurance population.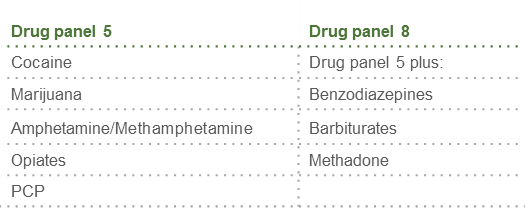 These screens were developed in the 1980s and are recommended by the Substance Abuse and Mental Health Services Administration (SAMHSA, formerly the National Institute on Drug Abuse, NIDA) for the testing of certain federal employees, as well as specified Department of Transportation (DOT) regulated occupations.
This new product will detect semi-synthetic opioid use and will include the following drugs: codeine, morphine, hydrocodone, hydromorphone, oxycodone, oxymorphone, heroin and fentanyl. As with all drug testing, positive screens will be confirmed with gas chromatography/mass spectrometry (gc/ms).

If you have any questions regarding this new panel, please contact Betsy Sears, Executive Vice President, Laboratory Strategy and Sales at 913.577.1306 or email Betsy.R.Sears@ExamOne.com. For pricing questions, please contact your Strategic Account Executive.
---
Rudd RA, Seth P, David F, Scholl L. Increases in Drug and Opioid-Involved Overdose Deaths — United States, 2010–2015. MMWR Morb Mortal Wkly Rep. ePub: 16 December 2016. DOI: http://dx.doi.org/10.15585/mmwr.mm6550e1. CDC. Wide-ranging online data for epidemiologic research (WONDER). Atlanta, GA: CDC, National Center for Health Statistics; 2016. Available at http://wonder.cdc.gov